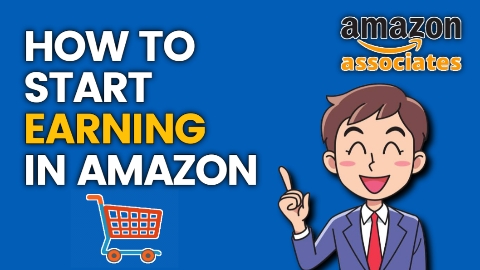 Hello everyone today I will talk about what is the process to register for affiliate marketing in Amazon which is the most of the one and very popular marketplace and they will provide affiliate marketing opportunities for every people who want to join as a affiliate partner program and on lots of commission after selling product on their social sites.
So now let's see what is the full process to sign up and login and approval also all the steps to use Amazon affiliate system.
First of all go to Amazon associate homepage and you will get the sign up option but you can sign up into process like you can directly visit the URL for a flirt program in Amazon or you can open the Amazon home page in your laptop or computer and scroll down in bottom of the page and you can see become partner program option just click on it and you can sign up there.
After that click join now button for free and then login with your Amazon account or if you don't have any Amazon ID then you can sign up easily to provide some of your details like email id or mobile number or any password etc.
after sign up process you need to complete your account information like your full name and address and also your mobile number or any social media site details like your website if you have this definitely.
After that you need to enter your preferred Store ID I think you know about this which is the unique identify about your profile which is shown on your referral link when you share for create any program affiliate link.
Now Amazon are asking from you some questions about your website or your mobile app which you have provided also including about your content and audience interesting related so just you need to provide all the question answers and it is very easy process so don't worry just provide and continue the page.
Then you need to provide the payment method of your account
How Many Types Of Affiliate Marketing :
Let's talk about the all types of affiliate marketing well there are several types of marketing on affiliate system and you can work on this as your choice.
Pay Per Click Affiliate Marketing : This type of affiliate marketing of give commission to count of clicks on the affiliate link from anywhere it is does not matter the visitor are purchase this item or not if anyone click on the link and you will get paid as pay per click.
Pay Per Call Affiliate Marketing : in this type affiliate system when someone visit to click on your referral link or affiliate link in your merchant website and do phone call or enquiry to your business number and you will get profit or commission as a pay per call affiliate marketing.
Pay Per Lead Affiliate Marketing : This affiliate Marketing system are give you commission when someone visit on the site from your affiliate link or referral link and do some action in the website for platform like submit any form or add to cart or subscribed your news letter or any others action and you will get paid from the company.
Pay Per Sale Affiliate Marketing : When someone visit your merchant website to click on your affiliate link and when they make a purchase after that you will get commission of some percentage on the product or sale amount that's called Pay Per Sale Affiliate Marketing.
Two Tier Affiliate Marketing : In this type of affiliate marketing you will get profit not for the purchase commission only also you will get profit if the customer after purchase the product he will suggest someone and share the link and they also purchase your product and you will get the affiliate commission it is called Two Tyre Affiliate Marketing.
Multi Level Affiliate Marketing : The multilevel affiliate marketing or MLM affiliate system are work not only on your commission of sale the product but also you will get commission when the system are also downline and recruit other persons in the list this will make multilevel affiliate marketing.
Influencer Affiliate Marketing : The influencer type affiliate marketing are work to promote your product in many social media pages for channels through creators or advertisers and you will get commission through your product affiliate link when they provide in the bio or description of their sites.