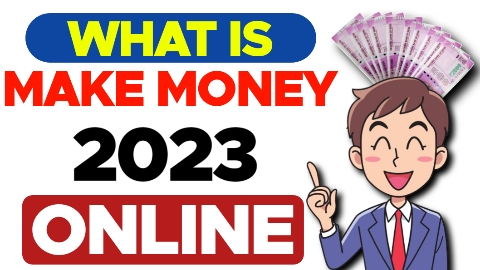 "Earn money online" refers to the process of making money through various activities on the internet. This can include a wide range of activities, such as working remotely for an online company, starting a blog or website, creating and selling digital products, providing freelance services, participating in online surveys or market research, or investing in online businesses or cryptocurrencies, among others. The internet provides numerous opportunities for individuals to generate income, and the availability and profitability of these opportunities can vary depending on a range of factors, including skills, experience, and effort.
How To Types Of Way To Make Money Online :
There are various ways to earn money online, and here are some of the most common types:
Freelancing: You can offer your skills and services to businesses and individuals online. Common freelancing jobs include graphic design, content writing, social media management, website development, and more.
Online marketplaces: You can sell products online through marketplaces like Amazon, Etsy, or eBay. You can create your online store and sell your products there.
Affiliate marketing: You can promote products and services from other businesses and earn a commission on each sale made through your unique affiliate link.
Online surveys and reviews: You can participate in online surveys, product testing, or write reviews for money.
Teaching and tutoring: You can offer online courses, tutoring services, or language lessons through platforms like Udemy, Skillshare, or Preply.
Virtual assistant: You can provide administrative and other support services to businesses or individuals remotely.
Cryptocurrency and online investments: You can invest in cryptocurrencies, stocks, or other online assets to generate income.
There are many other ways to earn money online, and the best method for you will depend on your skills, interests, and time availability.
What Is Payment Process Of Online Earning :
The payment process for online earning can vary depending on the platform or service you are using. Here are some common payment methods used for online earning:
Direct deposit: Payment is made directly to your bank account through a bank transfer.
PayPal: A widely used online payment system that allows you to send and receive payments securely.
Check: Some companies may send a physical check to your mailing address.
Gift cards or vouchers: Some websites may offer payment in the form of gift cards or vouchers for various stores or services.
Cryptocurrency: Some online businesses may offer payment in the form of cryptocurrency.
It's important to be aware of the payment process and any associated fees before you begin earning money online. You should also ensure that the payment method is secure and legitimate before providing any personal information or accepting payments.
Top 5 Platform For Make Money Online :
Here are five popular platforms to earn money online:
Upwork: A popular freelancing platform where businesses can hire freelancers for various services such as web development, writing, design, marketing, and many other categories.
Amazon Mechanical Turk: A platform where individuals can complete small tasks, known as HITs (Human Intelligence Tasks), and earn money. The tasks can vary from data entry, online research, writing, and more.
Swagbucks: A website that offers users cashback on purchases made through their website and for participating in surveys and online searches.
Fiverr: A platform for freelancers to offer their services in various categories, including graphic design, writing, marketing, and more.
YouTube: A video sharing platform where users can monetize their channels through ads, sponsorships, and merchandise sales.
There are many other platforms available, and the best option for you will depend on your skills, interests, and time availability. It's important to thoroughly research any platform you plan to use and ensure that it's legitimate and trustworthy.
How To Earn Money Online With Google :
There are several ways to earn money online with Google. Here are some popular methods:
Google AdSense: You can monetize your blog or website with Google AdSense, which displays targeted ads on your site. You earn a commission for each click or impression the ads receive.
YouTube: If you have a YouTube channel, you can earn money through Google AdSense by displaying ads on your videos. You can also earn money through sponsorships and merchandise sales.
Google Opinion Rewards: You can download the Google Opinion Rewards app and earn money by completing short surveys.
Google Play Store: If you're a developer, you can create and sell apps or games on the Google Play Store and earn money through sales or in-app purchases.
Google Affiliate Network: You can promote products and services from various companies through the Google Affiliate Network and earn a commission on each sale made through your unique affiliate link.
It's important to note that earning money with Google requires effort, time, and dedication. You'll need to have a strategy, work hard, and consistently create quality content to be successful.