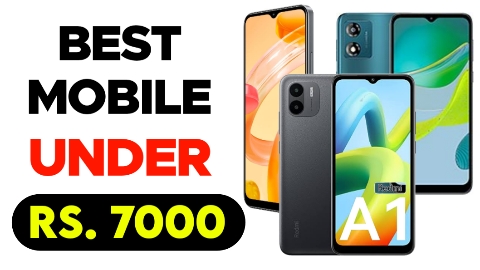 Hello everyone today I will talk about low budget the smartphone which is under 7000 also the best smartphone under 7000 budget low cost mobile.
I have included all the available features which are getting under this budget and choose the best one smartphone for you so let's start the discuss and I will tell you many smartphone specifications and configurations under this budget and you can choose one of this from the list.
Mandatory features :
Under the list I will mandatory added all this features after filter the mobiles which is minimum 4GB RAM and need screen touch mobile with high quality screen resolution and also waterproof mobiles supported.
With all the features there are included good quality camera with high quality selfie camera and the back camera are high performance compatibility with good megapixel and the processor are also current model with fast performance speed.
Also best quality storage not the old type of storage capacity included with the latest version of Ram compatibility if some cases they are supported micro SD card then definitely I will included in the list.
And also the most important feature which is fast charging support so I will try to add some smartphone which are supported fast charging connected with quick charge and also the auto cooling feature for multitasking and gaming purposes.
Moto E13 :
Moto e13 is the one of the best mobile which is performed very well with advance processor Technology octa core 1.6 gigahertz dual core and also hexa core processor Technology type. This are supported minimum 2 GB RAM and storage are 64GB capacity also this are 4G connected supported device with Wi-Fi calling.
In this smartphone the display are very good and big screen which is 6.5 inches that's called 16.51 CM with 2070 PPI and IPS LCD display supported of 60 hz refresh rate. And the display rating are 2.8 on 5. This smartphone Android version 13.
Now let's talk about the camera feature which are 13 megapixel primary camera and supported LED flashlight also as a primary camera and front camera are 5 megapixel supported quality with good quality picture.
If we discuss about the battery well this is 5000mah battery and supported USB type c connecting port but the battery are not removable type. The last one are price of this is smartphone for now 7000.
Some features are very useful of this smartphone and that is you can expand the external storage which is 64GB plus up to 1TB and that is very enough. This smartphone supported Volte connected with USB OTG support and supported dual sim connectivity both are nano SIM cards also this is waterproof smartphone with IP52 and FM radio all also available.
Xiaomi Redmi A1 :
The second smartphone of the list are xiaomi redmi A1 which is Android version 12 and this is the very good smartphone with all the features so let's talk about the performance which are quad core processor with 2 gigahertz and MediaTek helio 822 processor included with 2GB RAM supported smartphone.
As a display feature they are 6.52 inches display that means 16.56 CM which are 269 PPI supported IPS LCD display and that is very good and clear image for any smartphone.
Camera are also normal like this is 8 megapixel primary camera which are available dual LED flash with good quality picture and also as a front camera there are 5 megapixel sensor included with some extra advance filter.
But the battery quality are very good which are 5000 mAh battery with micro USB port but this is non removable battery type and Wi-Fi calling are supported of this smartphone.
But there are no fingerprint sensor available and as a storage this is 32GB storage also you can expand as a external storage up to 512gb and this is the dual volte supported mobile. Also you can connect USB OTG for external storage.
this mobile are supported dual sim card and both are Nano card supported also this mobile are splash proof or waterproof supported and the price of this smartphone are approximately 5800 for now.
Realme C30 :
This smartphone are very good quality and average features of this range from realme and the Android version are 11 with octacore processor type and speed are 1.82 gigahertz with processor type UNISOC T612 with 2GB RAM supported this is very average.
As a display feature they are 6.5 inches and 16.51 CM display with 270 PPI with IPS LCD display capacity the highest refresh rate of 60 hz.
Camera are very average of this price range that is 8 megapixel primary camera with LED flash light supported some extra filter options and sensors and also as a front camera 5 megapixel connectivity included.
As a battery there are 5000mah lithium ion battery and also supported micro USB port connectivity and this battery are non removable battery.
Now let's talk about the advance feature of this smartphone will there is 32GB storage connectivity supported and you can expand as a external storage or memory card is up to 1TB and that is enough.
Now this mobile are supported for volte connectivity and USB OTG cable or also supported. Both SIM cards are Nano type as a dual sim card supported and this is 4G connectivity smartphone. This smartphone price are 5999 for this time and you can check the real time price definitely before purchasing.